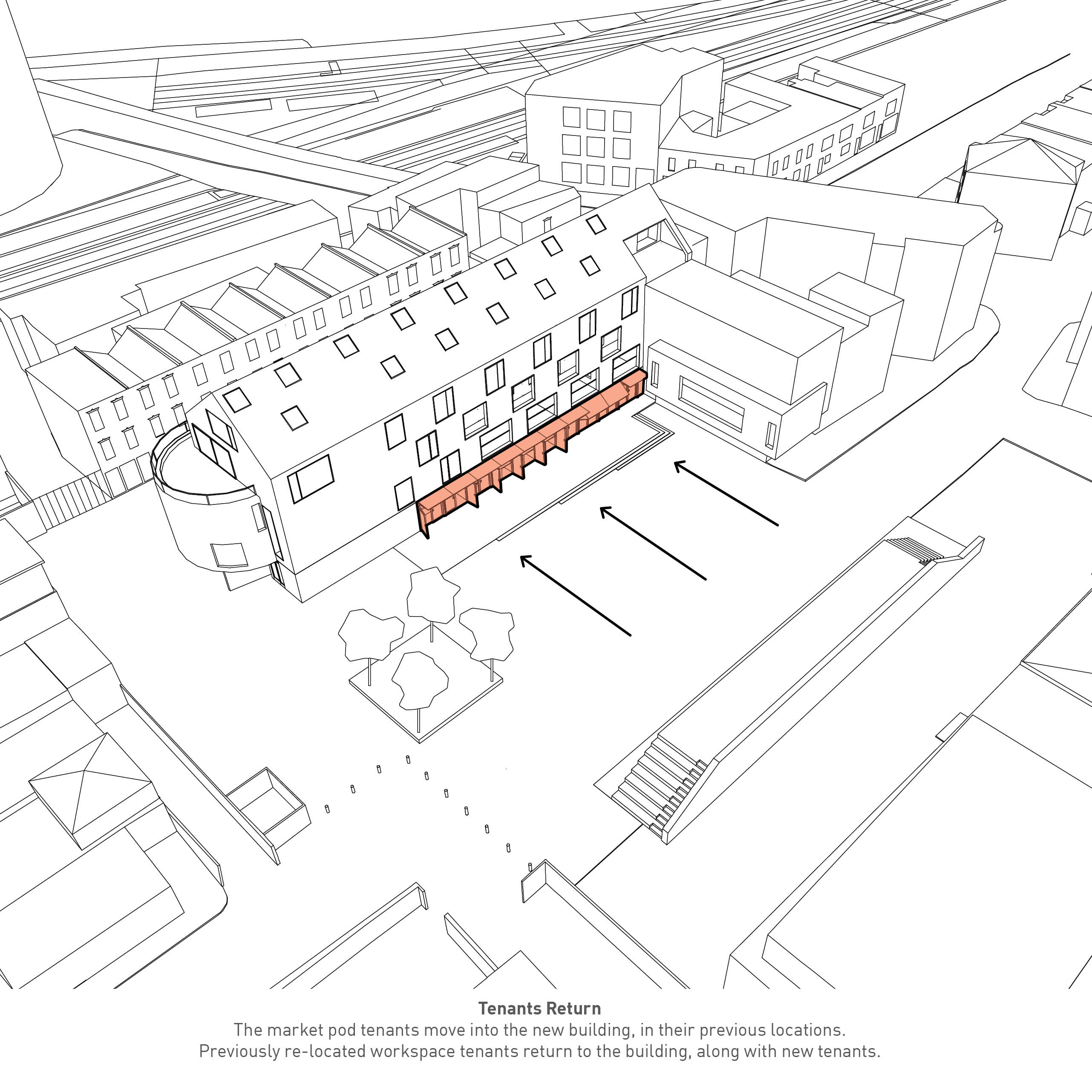 Can you reinvent an existing community asset without compromising its best attributes?
Bradbury Works in Gillett Square, Dalston, has recently re-opened its doors to new and returning tenants. The new building includes the refurbishment of 600m2 of existing affordable workspace, the replacement of ten mini retail units, and the provision of almost 500m2 of extra workspace in a two-storey extension. Bradbury Works is the next step in the evolving story of one of the most unique and community focused public spaces in the capital.

The new scheme looks to retain the best attributes of the existing building while providing additional flexible spaces to suit a variety of business. Facing into the square, new 10m2 retail pods are provided with fully openable glazed frontages which are further protected by profiled metal gates which provide security and privacy when closed but can be transformed with vibrant tenant signage when open.

The original masonry structure of the existing Victorian terrace has been retained, refurbished and renovated, providing small and medium 10-36m2 workspace units while retaining existing shops, bars and restaurants facing onto Bradbury Street. Between the new retail pods and the third-floor workspaces, a covered double height external terrace space is provided. Here, the existing circulation decks of the previous scheme have been reimagined as usable terraces and breakout spaces, increasing interaction with the square. Picnic tables, evergreen ferns, and climbing plants are provided to encourage tenants to come together in all seasons.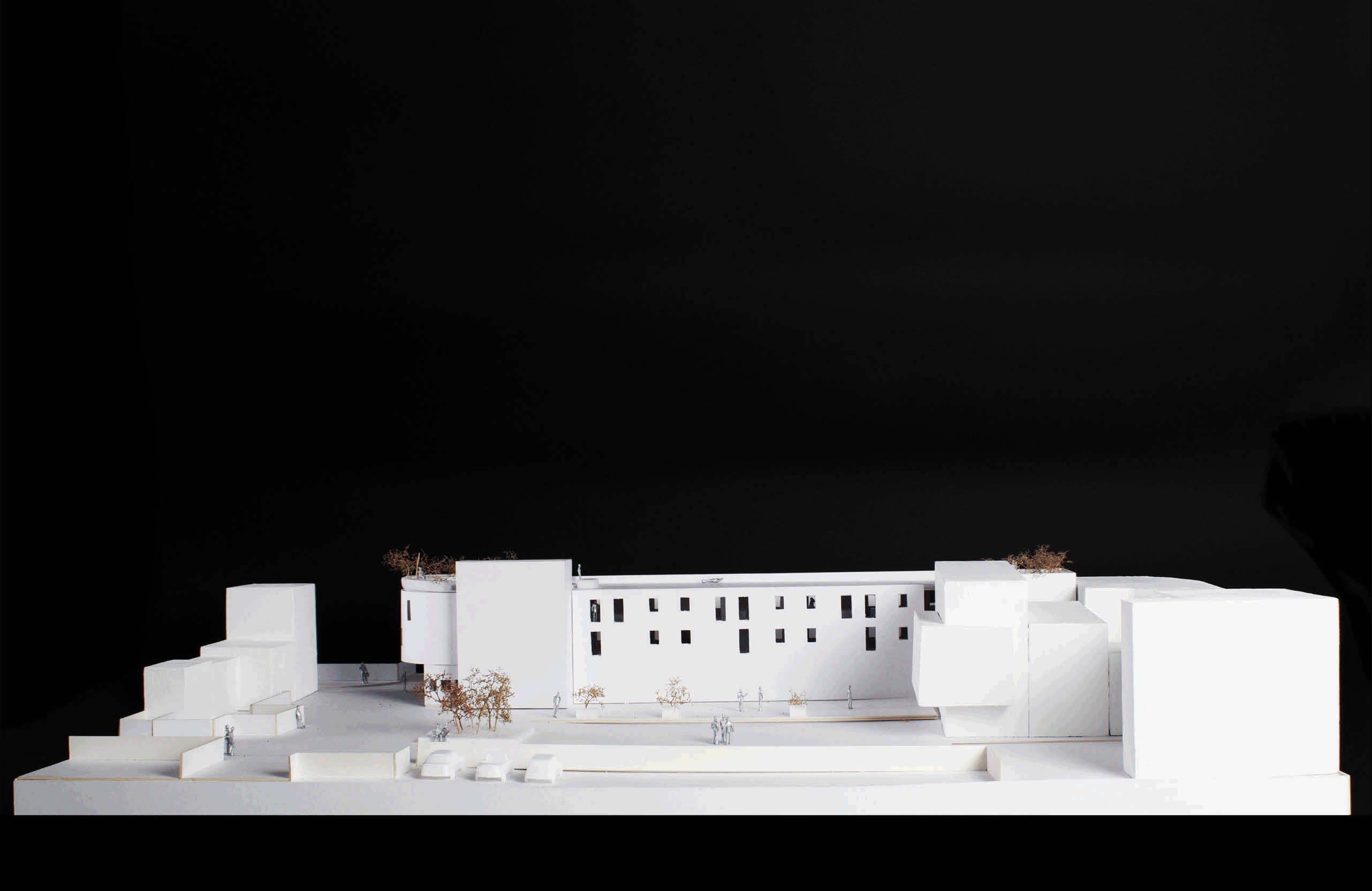 At third floor new accommodation is provided including new 40-65m2 workspaces with private mezzanine levels. They are provided in a simple pitched roof form which ensures overshadowing of the square is kept to a minimum and the new extension is largely unseen from the Bradbury Street side which falls in a conservation area. A south facing access deck behind the existing brick parapet provides the opportunity for natural cross ventilation to the new workspaces and panoramic views of London. In addition to private workspaces, a large flexible meeting and event space can be hired by tenants as well as the wider community.

Finally, the upper levels are wrapped in a new homogenous polycarbonate façade. The lightweight and reflective skin creates the appearance of a singular form, however on closer inspection the translucent character of the material allows the original terrace to remain visible. A memory of the past behind a new iconic focal point in the square. At ground floor level, profiled mill finish aluminium was chosen for its reflective and hard-wearing characteristics, providing a robust backdrop to the varied activities taking place in front.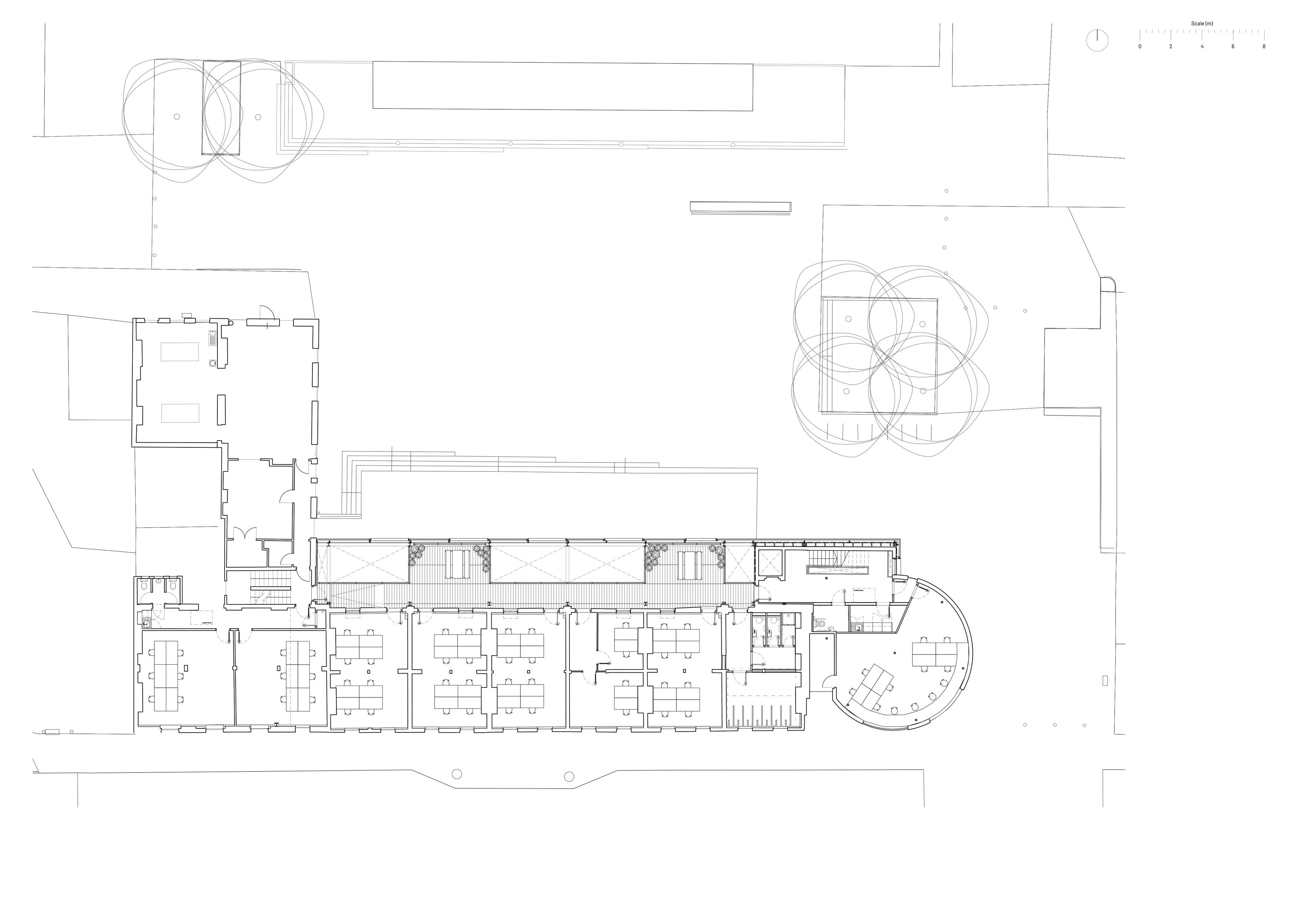 ---
Collaborators
Architect: [Y/N] Studio
Project Team: Alex Smith, Maegan Icke, Ayse Cagin Bailey, Elena Gruber, Roxani Tseranidou, Carolina Borgatti, Ezmira Peraj, Ainhoa Valle
Main Contractor: Vortex Interiors
Project Management: Helios Project Management
Structural engineer: Engenuiti
M&E consultant: Thornley and Lumb
Quantity surveyor: Beacon Project Services
Planning Consultant: JMS Planning and Development
Collaborating Architect: HawkinsBrown – initial stages only
Interior Design / Signage: [Y/N] Studio
Heritage Consultant: KM Heritage
Daylight and Sunlight: Schroeders Begg
Additional Funding: Greater London Authority (under The Local Enterprise Partnership for London), Unity Trust Bank, Hackney Council
Photography is by French and Tye.