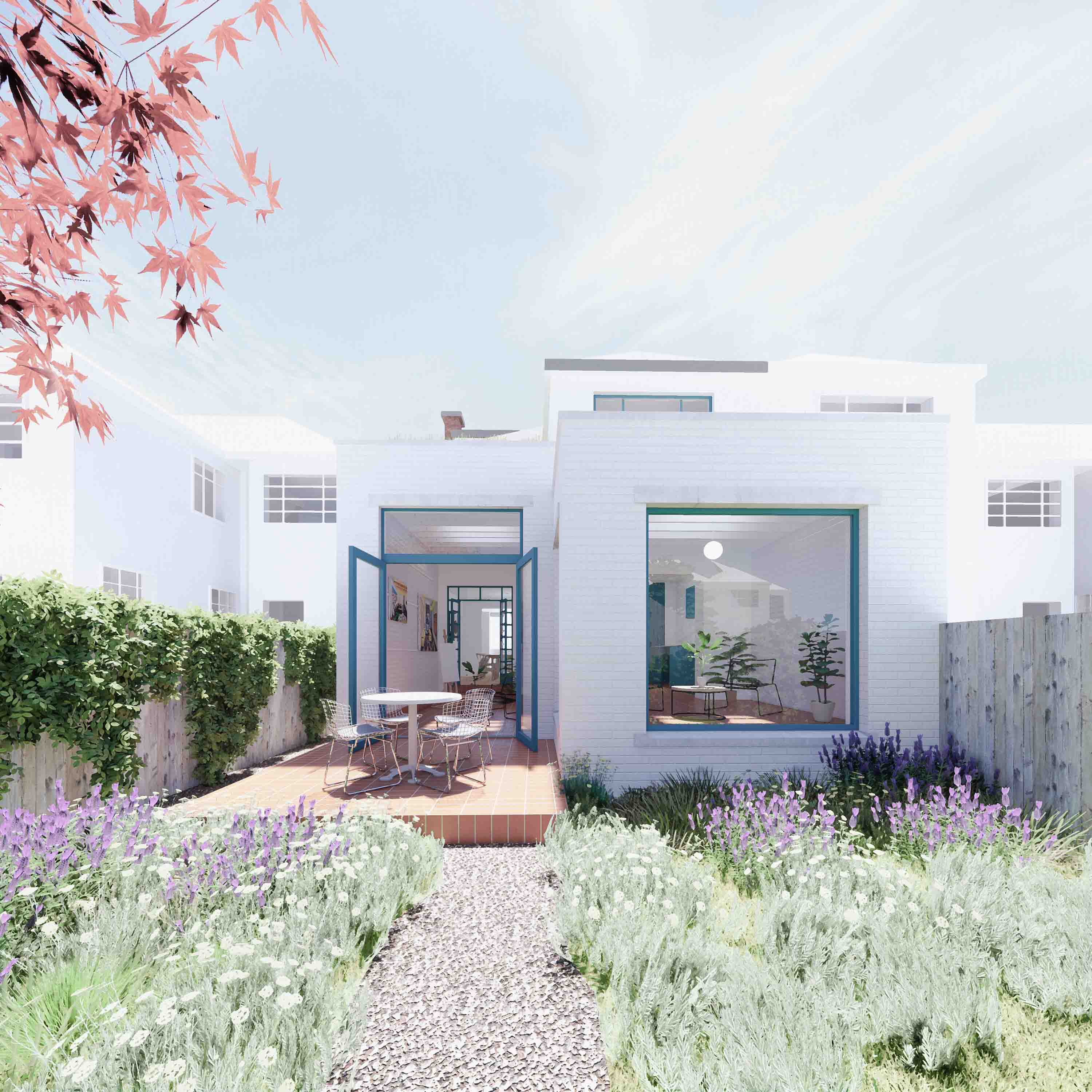 Can a flexible studio space redefine the functionality of an existing home?
[Y/N] Studio were challenged to design an extension to a characterful post war home in east London home for the artist Lisa Rigg and her family. The space needs to be flexible to accommodate the needs of the family and the artist in both the short and longer term.

The new extension is conceived as two distinct painted brick volumes. Firstly a 3.5m high artist studio will provide a new flexible painting studio that connects both visually and physically to the existing home by retaining existing metal windows and doors. Secondly, a new lower dining space will provide improved views of the garden and reposition the kitchen towards the centre of the home while also offering a connection to the new artist studio. Finally a new washroom with sink will be installed at ground floor level rationalising the kitchen layout.

A series of discrete glazed openings and pocket doors will allow residents to control their environment to suit their needs. The new reconfiguration of the ground floor allows for the compartmentalisation of the plan into one large space for socialising, two spaces when the artist studio is in use or even three spaces to allow for a closed off bedroom at the front if required in the future.

Externally the proposal follows the current stepped form of the rear and allows an existing side access to be retained. The material is robust and simple to respond to the existing building. White painted brick forms the wall finishes both inside and out, with blue teal windows and red clay flooring running from inside to out. Concrete lintels and sills will be expressed and provide an honest expression of their functionality. The landscaping immediately in front of the new extension will soften the exterior, providing seasonal variation and delight.

Cleveleys Road
Location: Hackney, London
Type: Residential
Size: 33m2
Client: Confidential
Status: On-Site
Date: 2021-
Collaborators:
Architect: [Y/N] Studio
Project Team: Alex Smith, Maegan Icke
Structural Engineer: Simple Works
Main Contractor: John Goudie